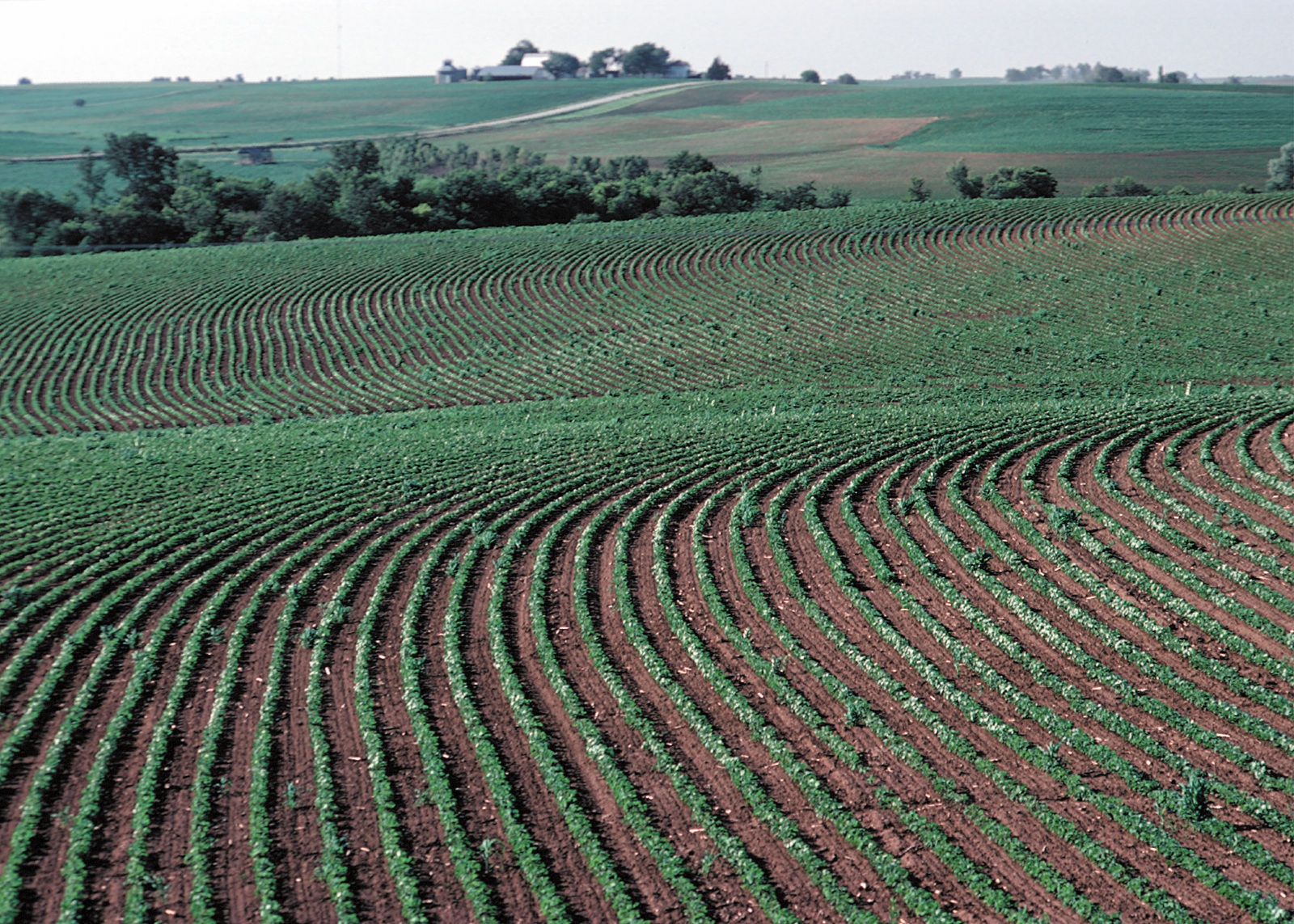 Contoured field in southwest Iowa. Photographer: Tim McCabe. Photo Courtsey of USDA NRCS.
Category:
&nbsp Erosion Control
Practice Type:
&nbsp Structural, Management
Landuse/Agriculture Type:
&nbsp Row Crop, Small Grains, Fodder
Climatic Zones:
&nbsp Temperate, Semiarid, Tropical
Regions:
&nbsp North America, Europe, Africa, Asia, Australia
Pollutants Treated:
&nbsp Nitrogen, Phosphorus, Sediment
Description:
Contour farming entails farming along the contour such that ridges, furrows and planting are perpendicular to the slope of the land. The rows running across the slope are designed to be as level as possible to facilitate tillage and planting operations on the contour. Contour farming is an erosion control system that has the effect of increasing infiltration of rainwater and reducing sheet and rill erosion, thereby reducing soil loss and the transport of nutrients and sediments to downstream water bodies.
1
Implementation Considerations:
Contour farming is most effective on slopes of 2% to 10% and 100 ft to 400 ft long. Stable outlets such as field borders and grassed waterways are necessary downstream components of contour farming. Contour farming improves the performance of downstream buffer-type practices such as contour buffer strips, terraces, contour strip-cropping, cover crop, filter strips, and grassed waterways because it helps to prevent concentrated flow.
Scalable to small farms?
Yes
1 Miller, T. P. , J. R. Peterson, C. F. Lenhart, and Y. Nomura. 2012. The Agricultural BMP Handbook for Minnesota. Minnesota Department of Agriculture.; "Contour Farming." Natural Resources Conservation Service, Conservation Practice Standard. June 2007. Web. July 2014. http://www.nrcs.usda.gov/Internet/FSE_DOCUMENTS/nrcs143_026017.pdf.